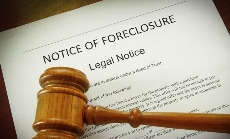 Running a business always has its risks. What matters is being aware of these risks right from the start and finding ways to avoid them moving forward.
One of the most common issues that business organizations often encounter is in the financial arena. When funds are not properly managed and the expenses become greater than the cash coming in, there's bound to be a problem. And if this is not resolved sooner, a company can go into debt or worse, become a subject of foreclosure.
A foreclosure occurs when a borrower or debtor fails to pay or defaults on his loan and the bank or lending institution takes back the property involved. A default can happen when a borrower often makes late payments or fails to act on other requirements of his loan such as maintaining hazard insurance on the property. It is when the debt remains unsettled that the property involved is seized and sold.
If your business is experiencing financial problems, you may need to consult with a financial adviser as soon as possible. It would also help to get in touch with a foreclosure attorney to find out your options early on.
Commercial foreclosure is similar to residential foreclosure. It is categorized into the non-judicial and judicial.
Non-Judicial Foreclosure
A non-judicial foreclosure does not involve the participation of a court. It is also referred to as a power of sale foreclosure and this clause is normally included in a deed of trust or mortgage allowing a trustee to sell the property without court supervision.
It should be understood, however, that banks cannot just repossess a property when a borrower defaults on his payments. The trustee, considered a third party in this situation, has the right to foreclose and sell the property.
The foreclosure process entails recording a notice of default in the country records, mailing a copy of that particular notice to the borrower and other parties and publishing that notice or default or notice of sale on a local newspaper. During this period, the borrower is given a fair amount of time to either dispute the lender's claim of a default or make his loan current before the property is put up for sale.
Judicial Foreclosure
In a judicial foreclosure, a property is sold and placed under the court's jurisdiction. Some states, however, allow foreclosure by power sale during which the borrower can sell his property without court supervision.
The initial process of a judicial foreclosure begins when the lender files a lawsuit against the borrower. The lender's lawyer is responsible for identifying the defendants in the lawsuit which should include the business owner and the business itself as well as lienholders. The U.S. Internal Revenue Services may also be included if the property has a federal tax lien. A period of 20 to 30 days is then given to defendants to answer the complaint.
What Businesses Can Do
There are also steps business owners can take to delay or prevent foreclosure of your company. Find out if you can still refinance your loan whether with the same lending firm or with a different one. You can also solicit help from relatives and friends. In addition, you can invite investors who may be willing to save your business.